Religious Waiver Program
Many people are finding their application for a religious waiver denied by their employers, and many employers feel that they are being strong-armed into acting as medical commissars, forced to coerce their employees to participate in a medical experiment against their will, and sometimes against their most firmly held religious beliefs. We recognize that this is an untenable state of affairs and seek to engage all the legal mechanisms at our disposal to liberate corporations, large and small businesses, and the individuals who comprise our workforce from the burden of complying with unnecessary and anti-constitutional 'vaccine' mandates.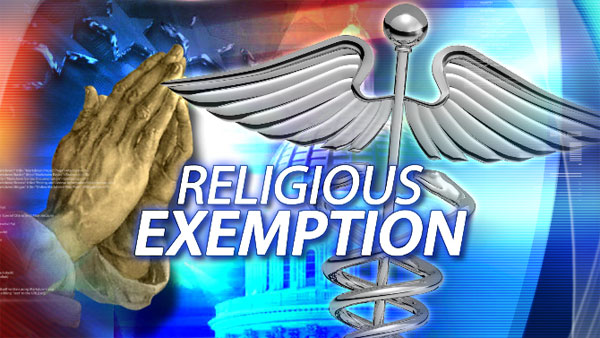 In the case of the wholesale override of the long-held convention of honoring religious exemptions, we strenuously object, and we believe there are many avenues that can be pursued to ensure that religious objections are honored for COVID-19 'vaccines,' just as they are and have always been for other vaccines.
Our mission is to support employers and workers with information and templates that can help both to assert their right to religious and medical freedom. All people should be able to choose whether to participate in scientific and medical experimentation without coercion.
If your company is being pressured to implement mandates, or if you are the employee of a company that is attempting to enforce mandates against your fundamental religious beliefs, please contact us immediately. Our agents may be able to assist you, and every individual win is a massive victory for the cause of medical freedom and bodily autonomy.
Is Your Company Refusing To Honor Religious Exemptions?
If your company is implementing or considering implementing vaccine mandates, and refusing to honor religious exemptions, we want to hear from you. Our agents may be able to help.
Learn More About Our Religious Waiver Program
We cannot publish our resources publicly at this time. If you are interested in learning more about our Vaccine Waiver Program, please contact us. An agent will be in touch to provide more detail.
Read More About Religious Waivers And Vaccine Mandates On Our Blog
The U.S. Supreme Court has, on January 7th, scheduled oral argument on legal challenges to a) the Occupational Safety and Health Administration's COVID-19 Vaccination and Testing Emergency Temporary Standard ("OSHA ETS") and b) the Centers for Medicare and Medicaid Services Omnibus COVID-19 Health Care Staff Vaccination Interim Final Rule ("CMS Vaccine Mandate").
Read More